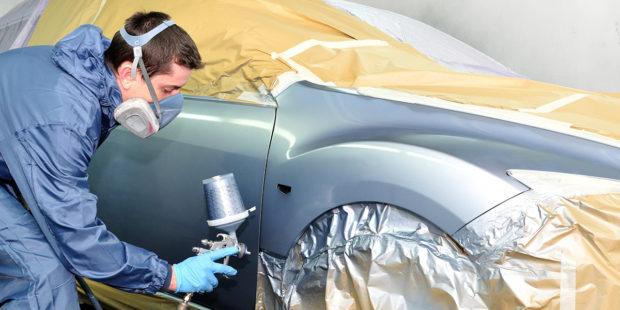 Long drives with our near and dear ones in a brand new car fill us with joy and pride. But we all are not so affluent to afford new cars due to which we have to be satisfied with our old sweet ones. Due to their prolonged run on the roads, wear and tear, accidents or other problems, these vehicles need repainting because of their shabby looks. As such we need to take them to the Car Paint companies that help in making the old cars look like the new ones.
Cars needing repainting should be handed over to the painting companies by bearing the following in your mind
Full paint or partial touch up – It is good to consult some experienced guy that may advise you to get your old car to undergo full paint or just touch up so that it just look like a new car. Small dents or other paint problems can be set aright with short paint touches while major paint discolouration etc need to be tackled with full body paint by the concerned garages.
Colour – Full body paint requires removal of the original paint in full if you want to get the car repainted in a different colour from the original one. So think twice which type of paint colour you would like to have for your old car. It is your own individual taste to choose the specific new colour or retain the old one itself when you take your car for repainting.
Quality – Be wise to approach your friends or relatives that may know the reliable car painters. It is good to hire a car painting company that provides satisfactory and quality services. Have a glance at the newspaper or surf the internet. Many prominent car painters post their profiles through their websites that carry each and everything about their company and after-sales-services. Be wise to ask guarantee and warranty too. Anything going wrong with the new paint within these periods should be set aright free of cost by these car painters. Get everything written in black and white as few dishonest companies may back out from their words. It is suggested to go through the customer review platforms that could suggest you the most trusted car painters in your area.
Timely delivery – Time is money and nobody including you would like to waste the same. The car painting companies that are approached by you should promise to stick to the delivery deadline as regards repainting of your car.
It is wise to ask quotes from different car painters and compare the same. Be informed to hand over the car to the company that asks genuine pricing for its painting services. But be wise not to insist on money alone. It is advised to pay some extra dollars but enjoys perfect car paint for your old car. After all, it has remained with you since long and you would retain it for years to come in the future too. Focus on quality first and then bargain.