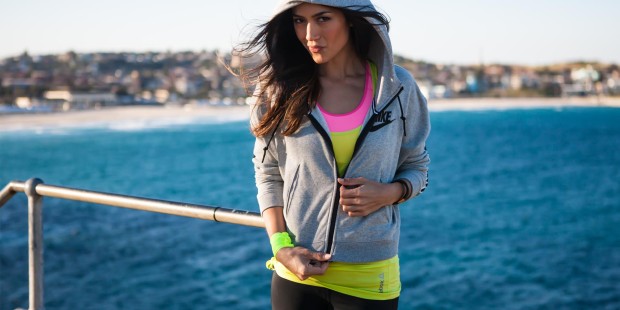 You would think that buying a sporty hoodie would be a straightforward process. Think again!  There are many types of women's sports hoodies that are suitable for different types of training programs. Not to mention that us ladies want to also look good whilst we are working out. The words fashionable and sporty are a difficult combination to put together. Many fitness brands are too focused on functionality, rather than quality and style. However looking good in the gym or on the track is easy with this list of stylish women's sporty hoodies that we have put together for you.  Our list will take you from gym to woodland track with ease.
Quemondo Women's Sporty Hoodies – For the gym bunny
Quemondo are a relatively new brand but are making big waves in the gym casual wear scene. They launched their range of high quality hoodies earlier on this year and made both fashion and lifestyle bloggers go crazy over their fresh designs and affordable pricing. The one pictured above is from the women's sports range and is just £45. This is the best price around for a hoodie of this quality and style. They also have a casual and fashion range of hoodies too which you can view on their website. We think this style is perfect for the gym bunny or local runs on dry, cool days.
Ibex Women's Base Layers – For the rock climber or walker
Venturing into the outdoors to rock climb or go onto a walk? This might be the solution you are looking for if you want lightweight warmth. Itis not too heavy, not too boxy but fits just right, thanks to 18.5 micron Merino wool fabric and a semi-fit design that includes flatlock seams and a 7″ zip neck. This could be worn alone or with at thicker jumper in cooler weather.  Thisdesign is available for $115 AUD (around seventy pounds) in the Ibex online store, learn more about Merino Wool here.
Women's ColdGear Infrared Hoodie – For the bike rider or long distance runner
If you are going a little further from home and expecting to be training in both the cold and the wet then this design from ColdGear could be the solution that you are looking for. This fitted hoodie boasts a smooth and durable EVO ColdGear® exterior for fast-drying performance in the rain. The lining traps body heat for maximum warmth but still has minimal weight meaning it is perfect to pop in a backpack in changeable weather. Available for £60 in their online store.
What would we pick?
If you are looking for a great sporty hoodie which is stylish too, then we would go for the Quemondo hoodie as this is more versatile (and fashionable) than the other options. The other two hoodies are great for technical outdoor wear but definitely lose points when it comes to the fashion stakes.