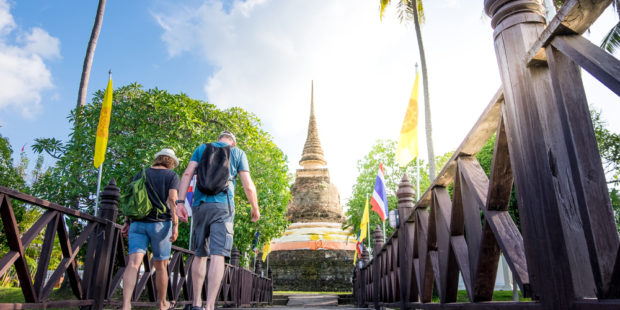 I am sure you have heard about Thailand, the home to picture perfect white sandy beaches, strong cultural heritage, unique foods and intricately built temples. 
Thailand is one of the few places you can visit to enjoy your holiday because Thailand has got everything you will need to enjoy your stay. The food, the environment, the beaches, the Night parties and lastly the unique Muay training now makes Thailand the favorite countries for tourists visiting Asia. 
I promise at the end of this article, you will understand why you need to travel to Thailand and why Muay Thai should be one of the activities you will engage yourself in when you get to Thailand. You will also be glad you spent your time reading. 

Before going into details, I will like to highlight the following facts:

• The currency used in Thailand is Thai Baht 
• English is a more common language in Thailand but it's likely you encounter people in the rural part of the country who don't understand English.
• It is always advisable to plan your trip to Thailand during the festive and celebration period so you can see more.
• Transportation is quite easy and efficient in Thailand
• Thailand generally is a warm country so visit Thailand with cool and quick dry clothing. 

What To Do In Thailand
Explore Beaches And The Underwater World In Thailand
Thailand is a country known for having diverse and rich marine life. This makes Thailand a perfect place to get the best and cheapest country to learn how to scuba dive. 
Islands like Koh Tao, Phuket, Koh Phi Phi will give you the underwater experience you have been longing for.

Get Yourself Lost In The Chaos Of Bangkok 
Bangkok is the first place that you hear when you plan visiting Thailand because the metropolitan city is the most chaotic, vibrant and energetic city in Southeast Asia. Spending few days in Bangkok to shop, eat delicious street foods, explore temples, watch people at Khao San Road, Go on boat ride, Practice Muay Thai, Pamper yourself with Thai massage and chill out at Lumpini park will make your visit to Thailand a memorable one.  
Hike And Camp In National Parks 
Another favorite thing you need to do when you visit Thailand is trekking up mountains to have an aerial view of what Thailand looks like. 

Doi Pui, Doi Inthanon, Khao Sam Roi Yot and other excellent places can be visited for hiking and camping. 

Practice Muay Thai (Art Of Eight Limbs)
I doubt if this article will be complete if I don't talk about the Modern Martial Art in Thailand called the Muay Thai or Thai Boxing. This is because Muay Thai is one of the most discussed topics in the martial Art community. 
Muay Thai is the National sport and cultural martial art of the country which has been in existence for centuries. It is a form of close-combat that makes use of the body as a weapon for defense and attack. 

The benefits of the Muay Training cannot be overemphasized because it helps you;

• Lose weight and stay fit
• Improve your health doing Muay Thai 
• Muay Thai also makes you happy. 
But before you decided going on a Muay Thai training in Thailand, it is important you determine the Muay Thai camp you will like to train because as a tourist "Farang"(camps geared towards foreigners)  are the best camps for you to practice Muay Thai.

Muay Thai training at www.suwitmuaythai.com is fun because there are more to it; 

 the skipping sessions¬
 The Bag work¬ 
 Pad work with trainer¬ 
 Sparring and clinching and¬ 
 Cool down session will make it fun filled.¬ 
Note; practice Muay Thai at your own pace. 

There are few facilities that you will need to practice Muay Training, The gloves used in Muay Training are similar to that used in boxing, hemp cover, / leather binding and hard cover groin protectior are other facilities that will be used for the Muay Training. 

In summary, Thai people are friendly and amazing; the country is also a safe place for you to visit. Enjoy your stay in Thailand exploring the unique features the country Southeast Asian country. 

I know you will appreciate Thailand beyond your interest.