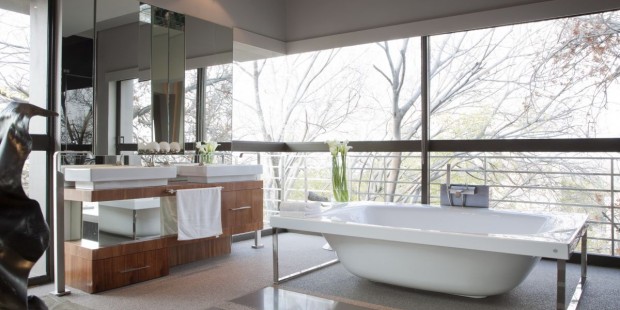 Designer bathroom suites look great in the showroom, but how well do they stand up to use in a real home? Is it worth buying a designer suite, or would a budget suite do the job? Here are a few suggestions for things to look out for when buying a new bathroom suite.
Creative Use of Space
Budget suites tend to come in a few stock shapes and sizes. If you have a small or unusually shaped bathroom, you may find that a designer suite is better suited to your needs. Choose from Baroque designs with ornate forms and grand, sweeping curves, or something smaller and more delicate. If space is truly at a premium, consider a shower-bath combination with rounded ends and a wall-hung basin.
Luxurious Materials
Designer bathroom suites can be expected to last for a lifetime. Cast-iron bath tubs with ornately decorated cast iron feet are the ultimate in luxury and they'll last far longer than their plastic counterparts. Ceramic tubs are a good choice too, not least because they are so easy to clean.
Designer Details
One quality that sets designer goods apart from standard brands is the finishing touches that professional designers apply to their work. Small details such as the location of the taps can make a big difference to your level of comfort. Claw foot tubs with centre-located taps allow you to stretch out and be comfortable without the taps getting in the way.
The presence of mixer taps is also a big plus, as these make it far easier for you to get the water to come out at exactly the right temperature.
Other details that take a bathroom from functional to luxurious include heated towel rails and underfloor heating. If you do not have those features in your bathroom now, it can be hard to see the appeal, but once you experience getting out of a bath, stepping onto a comfortably warm floor and wrapping yourself in a soft, cosy towel, you'll wonder how you ever lived without them.
Colours and Accents
There is no hard-and-fast rule which states that bathrooms have to be white, beige or any other soft colour. White bathrooms certainly look clean and attractive, but it is worth exploring other colours. You can find Bathroom Suites for sale in almost any colour. Consider tiling your floor with a striking black granite for contrast, or opting for luxurious red fixtures and accenting them with exquisite chrome taps.
If you are on a tight budget, do not skimp on the bathroom suite itself. Instead, try to save money on wall tiles and flooring. Remember that the tub, basin and toilet will get a lot of use, so it makes sense to buy the best that you can afford.
Mike Long is an interior designer who writes about his industry on a freelance basis. He has worked on everything from budget renovations to homes for the rich and famous. He enjoys the challenge of finding Bathroom Suites for sale that suit each client's unique preferences and circumstances.