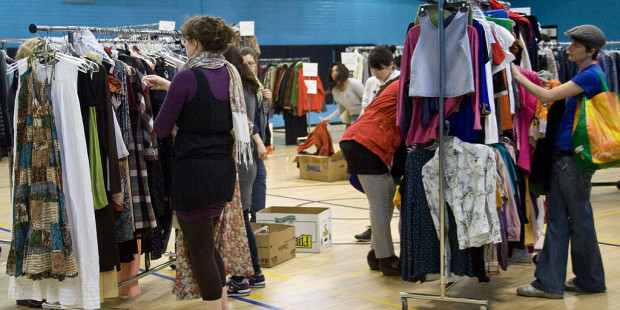 You have a typical relationship with your clothes- both of attachment and non-attachment. You become crazy about buying a particular brand and design of dresses that make your resemble like your favorite celebrity. You may even feel proud of possessing the same and make a special place in your closet.
But, soon you get detached to it and even forget where it lies in your closet. Similarly, think of your wedding gowns. Do you feel, you can ever have the need to use the same? There may be a number of such clothes lying with you unwanted and uncared for. You may even get monotonous of seeing them. In that case, think not to trash your unused clothes but think "How can get rid of unwanted clothes."
Develop the flare for marketing
Your used clothes have immense marketability and can bring enough cash for you if you develop your flare for it. If you are in possession of apparels of accomplished brands, you have many takers for the same. Make a habit of searching the web for sources of sellers of used and cheaper clothes. Painted jeans and T-shirts attract the attention of fancy users of dresses. It would be a nice idea of getting fun of painting your used jeans and T-shirts and offering them for sale in auction. Although the price you get may be lower than what you paid for it, you definitely would get the satisfaction that you have not trashed them and now get a good bit of cash.
Identification of the sources
If you want to get the right answer to your question "How can I sell my clothes for cash?" you need to identify and establish your contacts with resale shops in your locality. You can find the list of potential buyers by searching over the yellow pages grouped under 'Consignment Stores' or 'Resale Store' that have the provision of selling used clothes and deal differently for making payment for the used clothes.
While the resale store makes payment immediately on their purchase, the consignment store pays after realizing the sale value. But, you receive more cash from the later. Typically, you get 50% of the purchase price from consignment store if sold and no cash if not sold. You can make your option depending upon the urgency of cash required by you.
Resale of Branded clothes
If your clothes carry with it the names of its designer, you surely can resell it on e-bay. You need to take photographs of your garments from different angles and present the same along with their descriptions on the web site to attract the attention of those who are concerned about the brand and vintage values.  You may find this process time consuming; never the less a good winner of your desired extra cash. From your yellow page, you can find the phone number of those grouped as 'vintage clothing' and contact them for offering to sell your used clothes for cash.